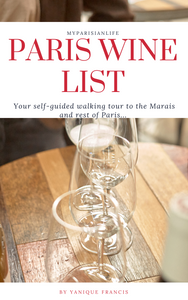 Get the local's point of view - THE BEST WINE BARS in Le MARAIS 
You know you don't want to waste time reading tons of online reviews or trying to hit or miss the best spots to drink good wines in Paris - natural wines and more traditional wines too.
Gift yourself this digital real-time guide!*
As a tour guide, I had to make this a walkable guide to some of the best wine bars in Paris- specifically focused on an area you can wander around - Le Marais.  So if you have limited time, you'll be able to see the Marais and wine hop.
If you're a wine and coffee lover. It also has THE BEST COFFEE SHOPS IN PARIS 
It also a separate list of the BEST PLACES TO EAT IN THE MARAIS 
 Cheers or as we say here " a votre santé "
*Can be used offline.